Julie Sherrill   3094 Hillside Drive Valdese NC 28690   Phone: (828) 433-5425    Cell:(828) 219-2274
    

         "The ancient Greeks did not write obituaries. They only wanted to know if you had a passion...I know I have found mine." 

                       Email oreo3094@charter.net
   Sweetwaters August Seance AMHA 29.00
   Seance is a bold colored mare producing exceptional foals year after year . She has an excellent top line, dished head, big doe eyes, and tiny well set ears. She is short in the back, with a long level hip, and carries her tail in a natural fountain arch. She exhibits all the qualities that we are looking for in the modern Miniature Horse. SOLD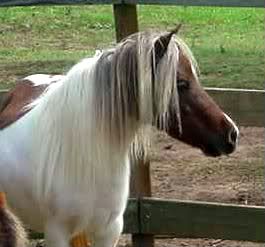 RHA Private Witchy Women AMHA/AMHR
        Several years ago i set out to find a Cross Country Private Terms daughter for Lil Hoofbeats Farm.  I wanted to choose a mare that is a reflection of the qualitys strived for in the Miniature Horse today. RHA Private Witchy Women was my choice.
         RHA Private Terms is a multiple World Top Ten Champion, a sire to multiple National Grand Champions, multiple Worls Grand Champions, Grand Champions, and Supreme Halter Champions. I feel this tiny black blue eyed mare inherited many of her sires outstanding qualitys.

Our Farms over The Painted Moon AMHA/AMHR
 Our Farms Over Tha Painted Moon is a striking black sabino Frame overo mare. That is a direct grand daughter of Eleven Time AMHA National Top Ten Stallion StoneHenge Painted Feather, Sire and Grand Sire of World Champions
This is an exciting young mare with a baby-doll head that sits atop a long graceful neck. She has a beautiful body that is accentuated by her well placed overo markings. She is short in the back, with a deep  hip and a nice level topline.  

 SOLD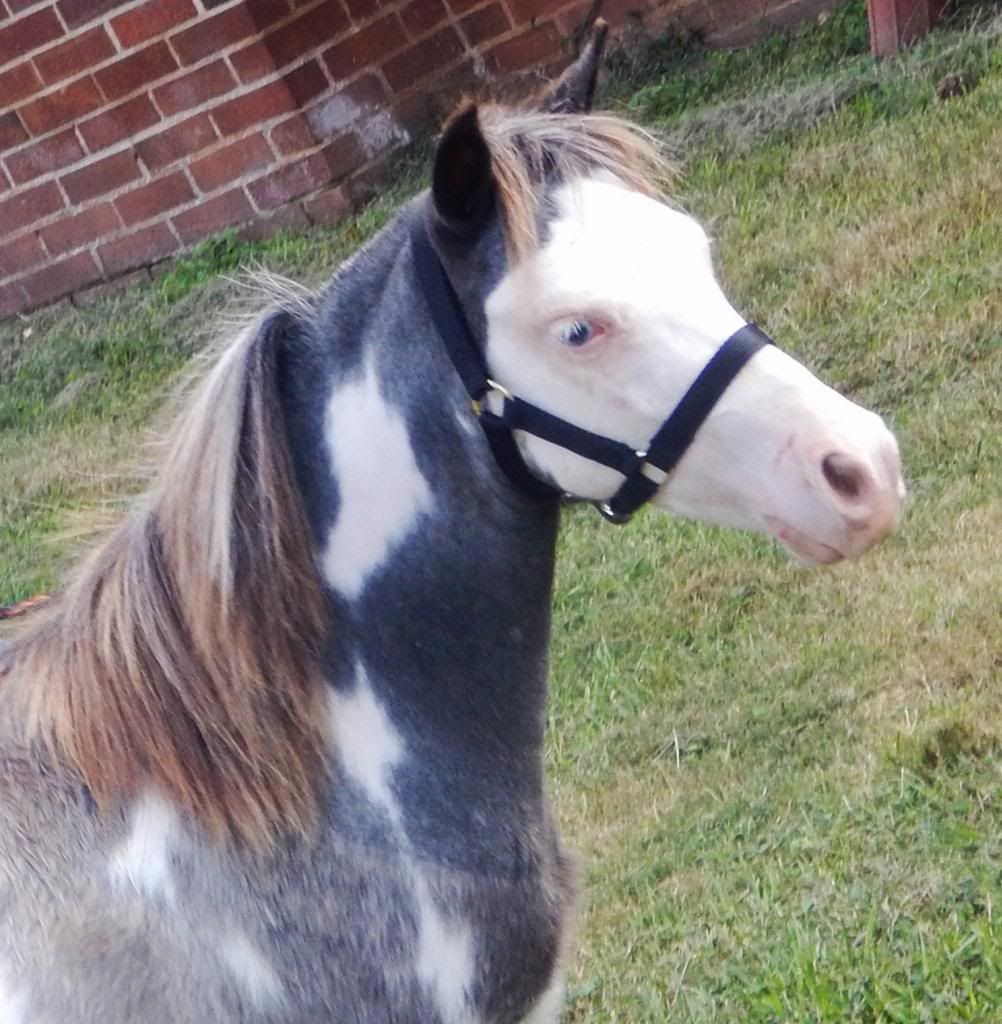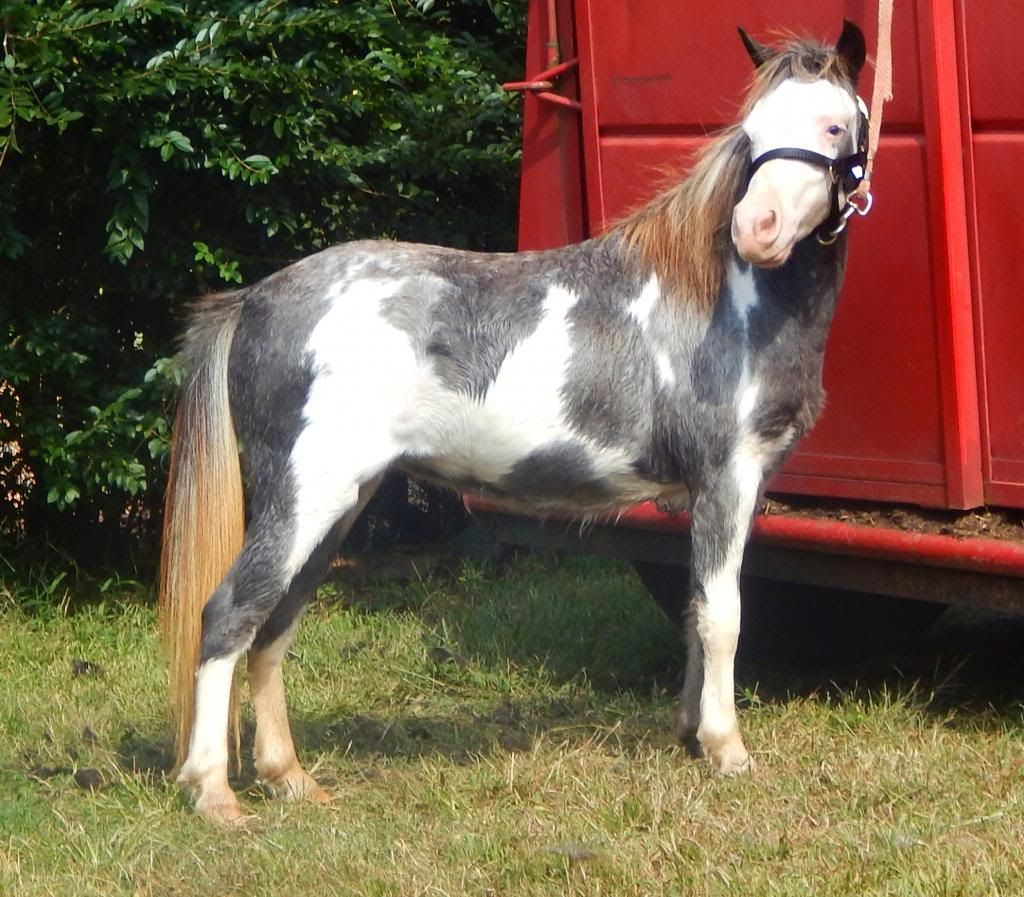 Nostalgias Locked N Loaded AMHA/AMHR 32.00
This is a very pretty bay splash overo filly with a long neck and huge eyes. She is a direct daughter of 
National Champion Stallion and a World Grand Champion Producer Nostalgias Show Me The Money.
"Shamu"  has produced 17 AMHA World National Grand Champions foals. 
Locked and Loaded is a paternal sister to greats such as Nostalgias Silent Investor, Nostalgias Shake the Money Maker, and Nostalgias Strictly Cash.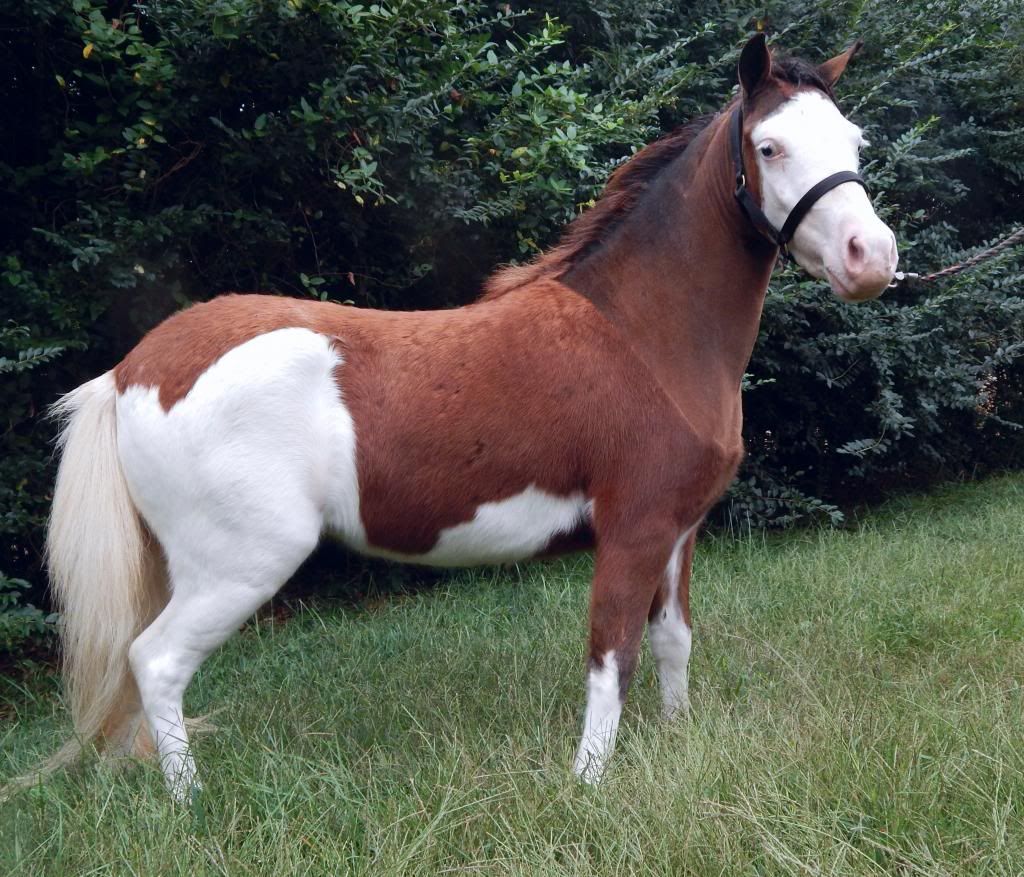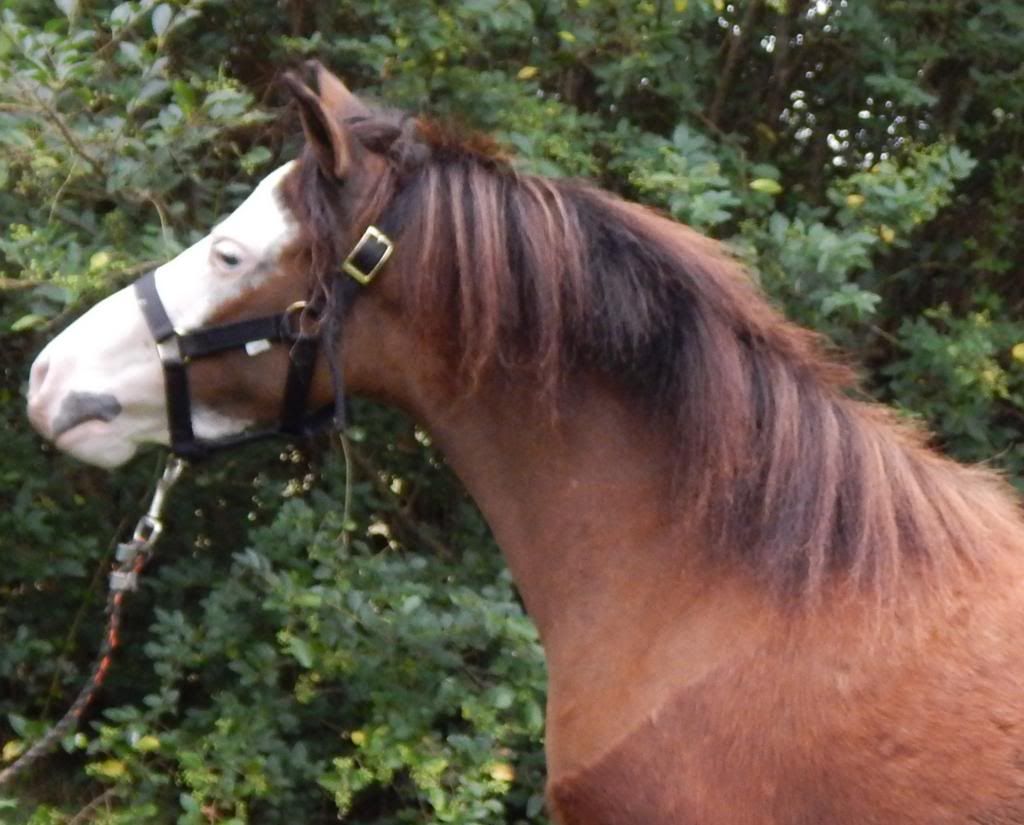 Grazing Meadows Miss Keepsake AMHA/AMHR 32.00
  This is a great producing little mare that has been consistent in every way! We own her daughter Rising Sun Sahara. First quality mares are rarely offered for sale,  and when this little mare came available, i jumped at the chance to own her! She has a beautiful head, large expressive eyes, a well set arched neck, and a gorgeous top line. She has a super attitude, and she always produces showy foals, that catch the judges eye!
LTD's Moonlight Bay AMHA/AMHR 32.00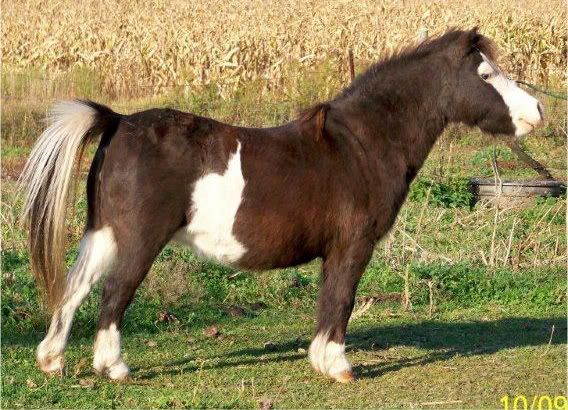 Nellie is a beautiful mare with great color,conformation, and a beautiful head and neck.  She is a young black and white mare with stretch and quality, and beautifully balanced! Nellie is a beautiful mare that is extremely easy to breed maintain and foal out. With her bald face and exotic blue eyes, surely she carries the overo gene!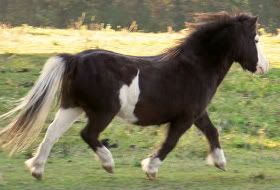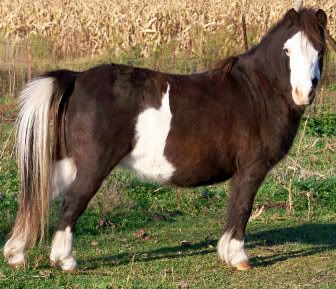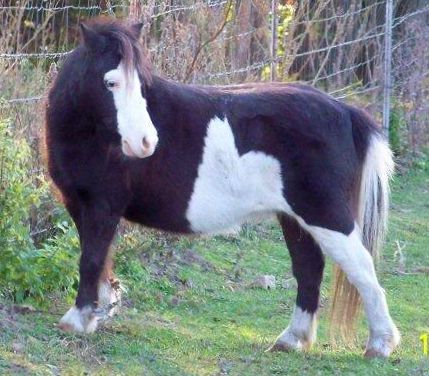 KDS Shortstuff Hiawatha AMHA/AMHR 30.00
What a darling!  This  beautiful sabino has all the looks and conformation of a much larger Miniature. Shortstuff as she is affectionately called, stands a mere 30 inches and is a beautifully refined mare with great color, conformation, a head that has to be seen to be believed! It does not get much better than this, a tiny, balanced mare, with a deep hip, super top line, and a winning personality.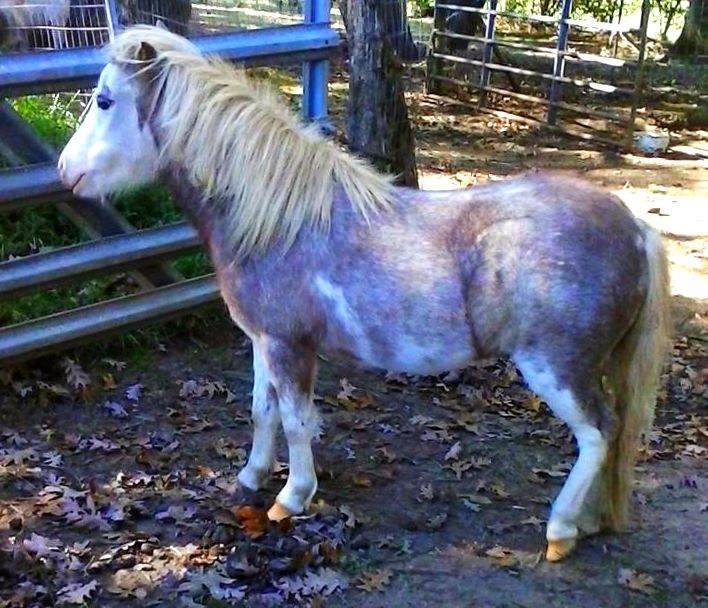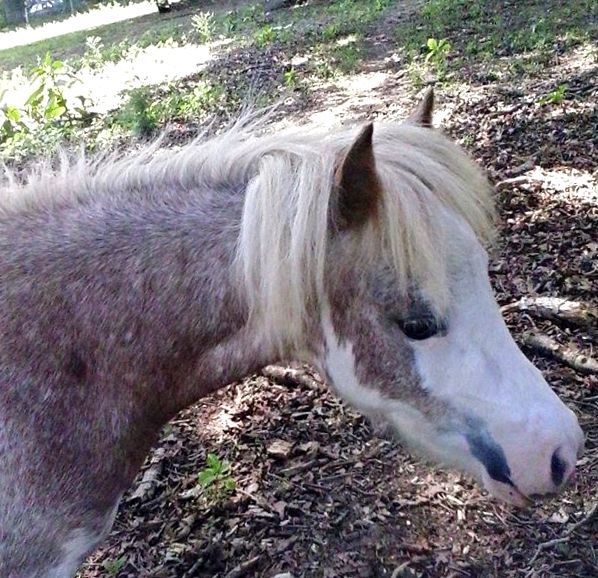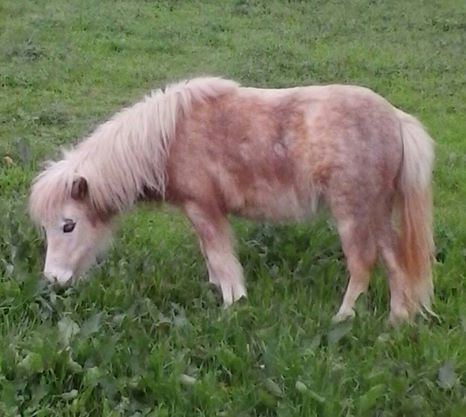 Lil Hoofbeats Special Effects AMHA  30.00

      Unforgettable!  that's just what this mare is! She is the picture of perfection in Miniature.  Just look at that baby doll head, beautiful top line, and what an attitude she has! Her sire is Nostalgias WhistleBlower, National Top Ten stallion and she is out of Lil Hoofbeats Mighty Windchimes, a
  Johnsons SuperCharger Grandaughter. She is a black Splash filly with no Tobiano in her. She will be an OUTSTANDING color producer as both parents are Black and White Overos. She has everything to take you to the top! And later become an irreplaceable color producer. 
              HavenCrofts Heart Of The Night  30.50
     This mare is a Maternal sister to two Hall of Fame Champions, Circle S Billy Cadberry,and K-Dee'sSir Gentry, and a daughter to AMHR Superior Dam, Night Lady. "Missy," as she is lovingly called, has done very well with limited showing. It took some doing to convince Havencroft Miniature to part with this mare, and we feel she will be a valuable investment to our farm.