What a sensational bold colored, homozygous pinto blue eyed mare! Miss Mouse has a pretty head sitting on a well set, clean neck that ties into a smooth body.  She is short in the back with a deep full hip and all the stretch and quality that is so desirable in today's Modern Miniature Horse. Just a nice mare that is easy to handle and a pleasure to have around!  
               Lil Hoofbeats Premonition AMHA 29 inches
        Premonition is a colorful balanced broodmare who consistently produces quality foals-year after year. She is a prolific producer who settles easily, with no foaling problems. She has given us 4 outstanding fillies. When it comes to "pluses" premonition has them all! beautiful head, wonderful color, and an outstanding broodmare.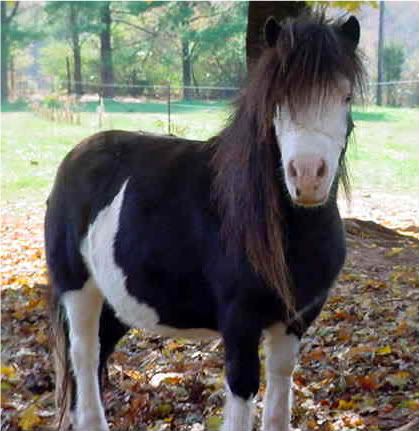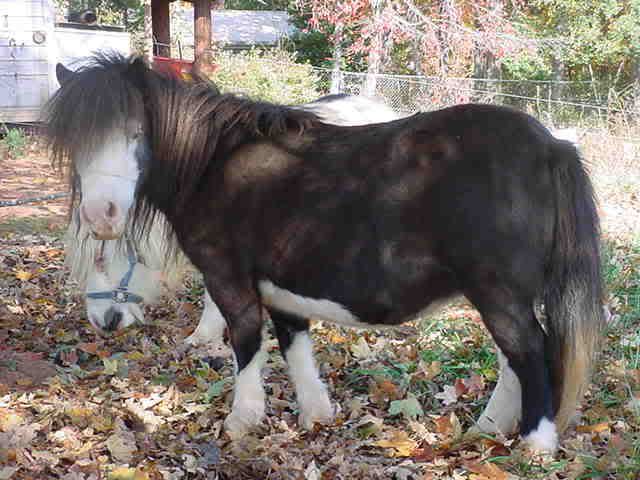 R&S Sunrise Sahara AMHA/AMHR 30.00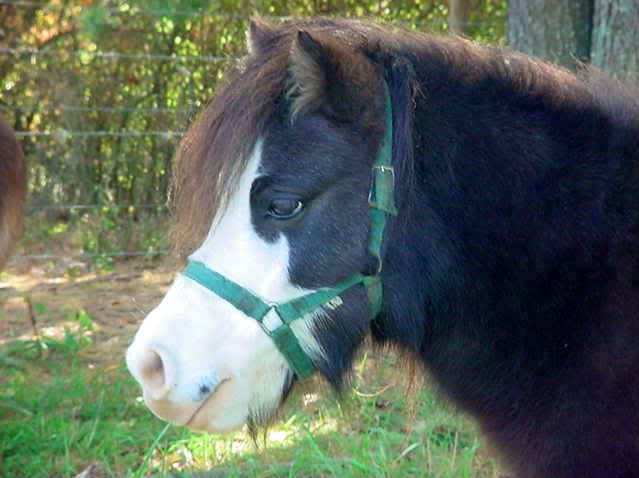 Sahara is a beautiful headed mare with tiny well shaped ears, and a fabulous trot! This mares sire is a grandson to Little Kings Napoleon, and Yellow Diamond Little Feather. Her Dam is a daughter of Smithdeal Apache Kids Desperado, by NFCS Apache Kid! Sahara not only has an illustrious pedigree, but has all the color one would ever want for an overo breeding program.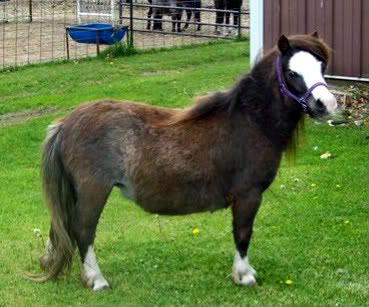 Lil Hoofbeats Causing a Commotion AMHA/AMHR

The future holds great things for this classy little mare! She offers a solid pedigree of outstanding horses. She is out of Bar M Miss Paleface, and by a National Top Ten Stallion, Nostalgias Whistleblower. She is flashy, small, refined,  has a long neck, beautiful head, and winning attitude! This filly offers all the "pluses," A super strong pedigree, outstanding type, and in the most appealing of colors, make her the "must have" mare.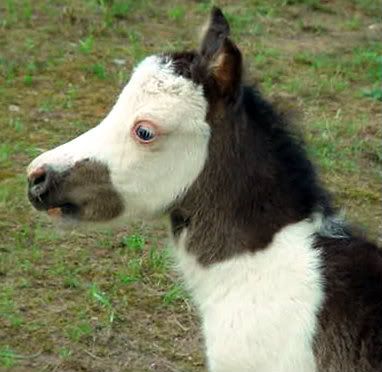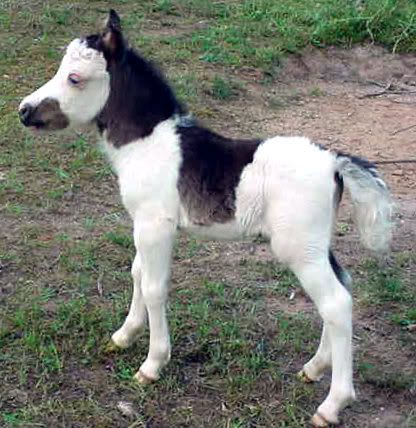 Lil Hoofbeats Must Be Doing Something Right 
    Could We have painted her any louder?? What a gorgeous filly!   It just doesnt get much better than this! A gorgeous overo filly out of Nostalgias Whistleblower National Top Ten stallion, and out of  Summer, who is sired by Candylands Candyman, half brother to Candylands Best Kept Secret, and a direct son of Mustard Seeds Legionnaires Hi Roller
     Wow ! I just cant say enough about this girl! Gorgeous head and neck, Exotic color,  and a pedigree "To die for". This horse's full brother was exported overseas,  and we feel this mare is even better! What a beautiful example of fine breeding, with loads of color to spare!!
LNL Splashing in the Moonlight AMHA 29.00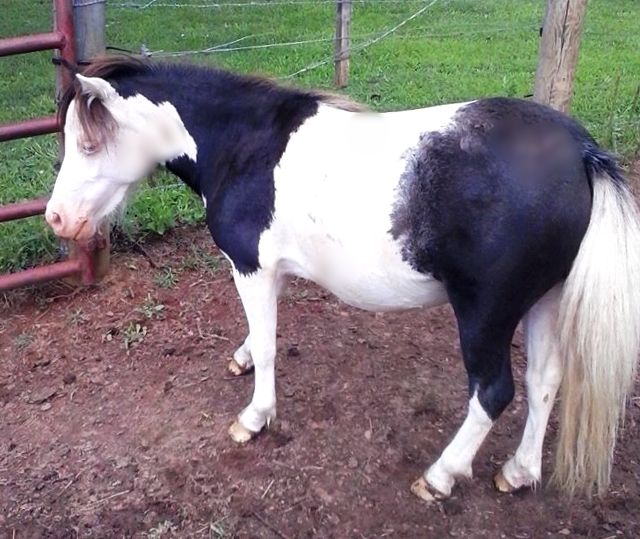 What a darling!  This  beautiful black splash has all the looks and conformation of a much larger Miniature. Splash as she is affectionately called stands a mere 29.00 inches with a beautiful hip, and a head that has to be seen to be believed! It does not get much better than this, a tiny, balanced mare, with a deep hip, super top line, and color to burn! We are THRILLED to have acquired such a spectacular Horse!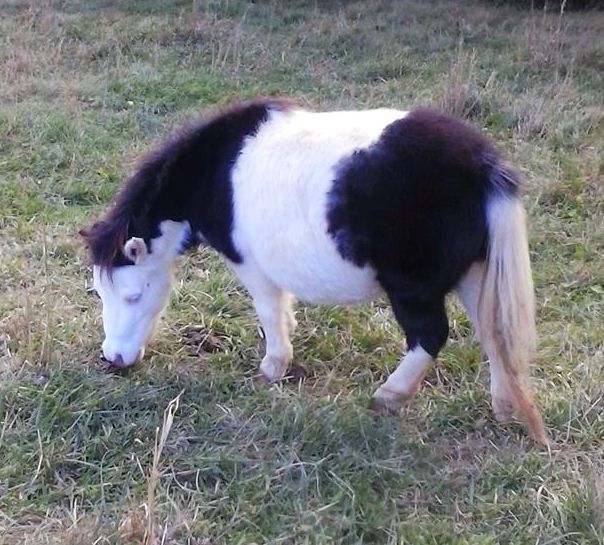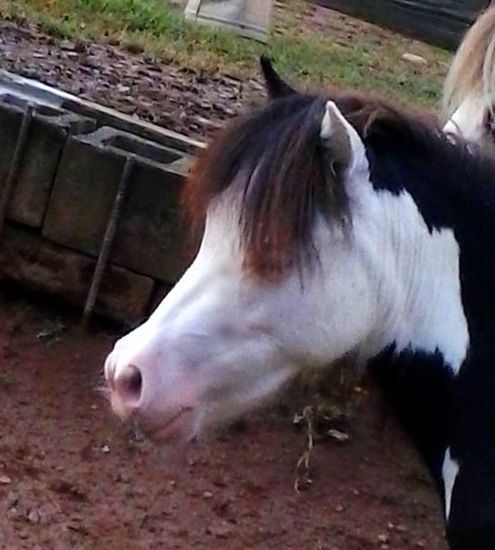 DerbyTowns Paint Me Overo AMHA/AMHR 30.00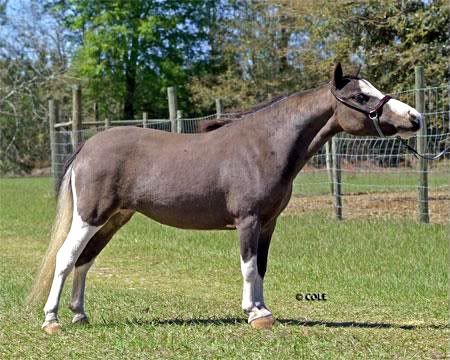 When we had the opportunity to purchase this beautiful headed little overo mare,  we  jumped at the chance! "Peanut" as she is affectionately called, has a wonderful pedigree. Her grand-sire is
 Multiple AMHA National Top Ten, Timberidges Silver Bullet,
and she is a maternal sister to
National Champion Ten Ls Splendors Black Velvet,
and
National Top Five
mare
Ten Ls Splendors One Hot Mama
.
Shown here as a baby, Peanut has a gorgeous head, large exotic blue eyes, a wonderful
top line, and a royal heritage 
.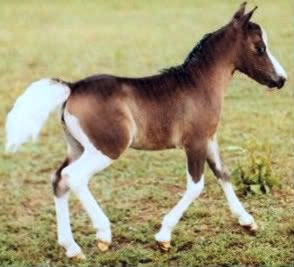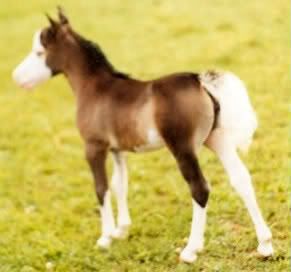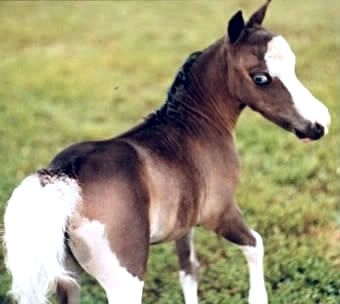 Wolfpens a Touch Of Charm  AMHA/AMHR 29.00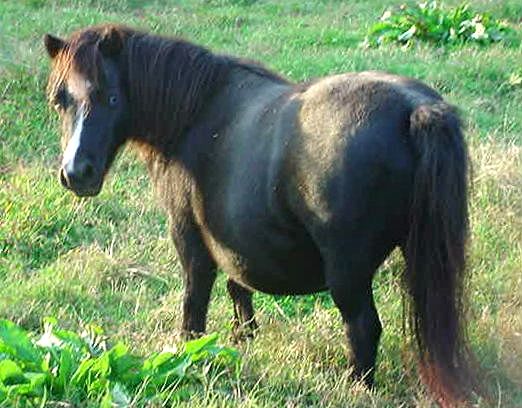 Charm is a wonderful broodmare, with a beautiful dished head, and exotic baby blue eyes. She has produced several loud black and white overo foals. Charm has a "table top" top line and carries her tail in a natural fountain arch.  She is short in the back, and her hip is deep and full . When it comes to "pluses" Charm has them all! Just a beautiful mare with outstanding conformation."pluses" make the difference, and Charm has them in abundance!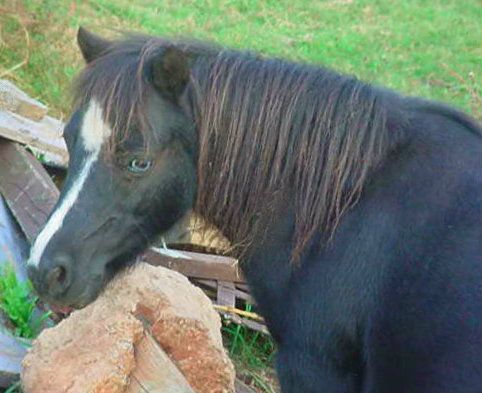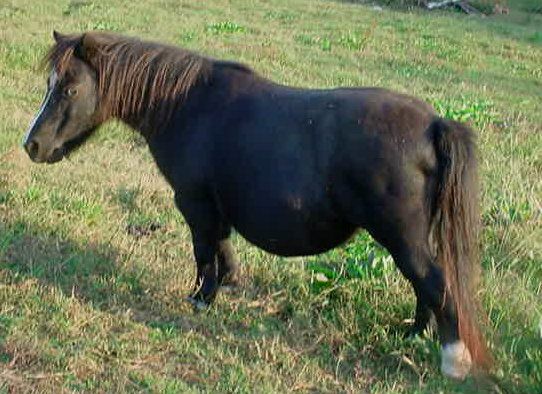 Mares  page 3